Introducing Photography Masterclass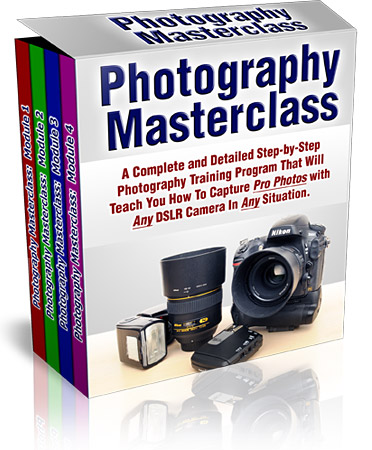 Photography Masterclass is a collection of twenty-nine (29) videos totaling about twelve hours of extraordinary training that will help you get the most out of your DSLR camera.
You can now master your DSLR camera and take great, attention-grabbing photos by following the step-by-step video tutorials in Photography Masterclass.
So if you are struggling to get the most out of your DSLR camera, then Photography Masterclass is definitely for you!
Let me say it again: "Photography Masterclass will teach you everything you need to create amazing photographs." Click the link below to place your order now!
What's In Photography Masterclass
There are twenty-nine (29) videos separated into four (4) modules for quick and easy reference. You can watch them from start to finish or you can watch them as your need arises.
Module 1: Mastering Your Digital SLR Camera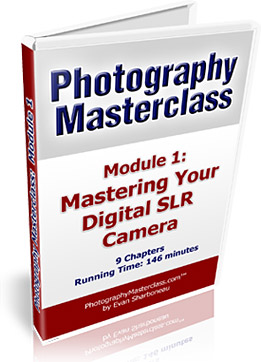 This module will give you a comprehensive understanding of your DLSR camera and its functions. You will find the best settings for your camera in any situation you experience as a photographer.
These videos will give you a practical understanding of how your camera works. Watching a video is a much better way to learn than simply reading the instruction manual.
There are nine (9) videos in module one, which includes the all important subject of Full Manual Mode. You will learn how to control the aperture, shutter speed, ISO, focus, white balance, flash modes, metering modes and shooting modes.
Module 2: Mastering Your Photography Equipment
This module will introduce you to your photography equipment. It will help you get to know what gear is essential and what equipment you need to avoid.
This module will inspire you to be more creative in your photography. It will also save you lots of time and potentially thousand of dollars.
There are six (6) videos in module two, which includes the all important insight into lens types and configurations.
Again, the information here has the potential to save you thousands of dollars. Don't miss this one whatever you do!
Module 3: Mastering Composition and Shot Planning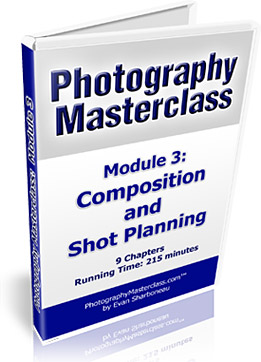 This module reveals the secrets of the pros. It will show you how to take brilliant, captivating and memorable photos.
Learning these secrets will literally change the way you take photos and it will take your photography to the next level.
There are nine (9) videos in this module, which includes insights into the rule of thirds, leading lines, depth of field and much more.
If you are wanting to make a career out of photography, then module three will take your photography to a professional level. It simply requires you to apply these principles to your photography.
Module 4: Mastering Post-Production and Software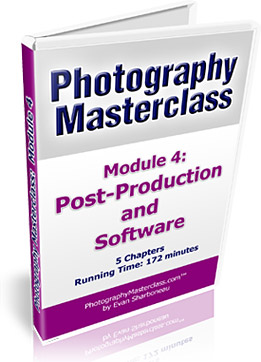 This module looks at the software you will need for post-production results.
There is no-fluff in these video tutorials. You will see the tools that deliver results, turning ordinary photos into extraordinary photos.
There are five (5) videos in this module, which includes insights into Adobe products such as Lightroom, Photoshop Elements and the full version of Photoshop.
Master these four modules and you will begin to take brilliant, captivating and memorable photos.
In fact, if you master these four modules, you will learn the same principles used by professional photographers. By the way, some of these principles are impossible to find elswhere.