Disclaimer
Disclosure: We are a website that receives compensation from the companies whose products we promote. We test the products and promote only the very best. We are independently owned and the opinions expressed here are our own.
Digital Photography For Beginners does not sell any products directly. All income from this website is earned from affiliations and sponsor ads.
Text ads that appear on this website are sponsor ads by Google Adsense (clearly labeled with Ads by Google). Digital Photography For Beginners does not personally endorse the products and services advertised in these ads. Theses companies are not affiliated with this website. The only affiliation present is the one between this website and google. Commissions are generated from Google for displaying these ads.
The banner ads that appear in the header of this website are sponsor ads by Google. Again, I do not endorse sponsor ads.
Digital Photography For Beginners assumes no liability for products purchased from third-party websites or sponsor ads. Read the terms and conditions of any product you purchase.
Disclaimer: The information contained on this website is provided "as is" without warranty of any kind. The entire risk as to the results and the performance of the information is assumed by the user, and in no event shall Digital Photography For Beginners be liable for any consequential, incidental or direct damages suffered in the course of using the information in this website.
Furthermore, this website is provided "as is" without any representations or warranties, express or implied. Digital Photography For Beginners make no representations or warranties in relation to this website or the information and materials provided on this website.
People who download material or purchase products from this website do so at their own risk.
All materials on this site are protected by copyright and intellectual property laws and are the property of Digital Photography For Beginners. Unless stated otherwise, you may access and download the materials located on this website for your personal use but not for commercial use.
Creative Helps For Beginners
My passion is to make photographs rather than take photographs. In other words, I want to be creative in my digital photography.
I have taken several courses to gain a very good working knowledge of my Nikon D7000 Digital Camera (recent purchase). With those courses, I have learned much about lenses and their uses.
I have purchased some great products with a creative edge to digital photography. I am still learning from these products.
Trick Photography and Special Effects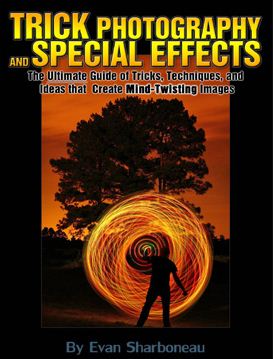 Trick Photography and Special Effects was the first product I purchased to help me or should I say to inspire me to be creative with digital photography.
Evan Sharboneau has put together a very popular product. I have used many of his ideas to take great creative photographs.
Some ideas that I appreciated from this product were: long exposure effects, light painting and HDR photography.
Long exposure effects will help you to take great night photographs and those misty waterfall photographs. Light painting will help you take mysterious night shots. To read more...
Digital Background Secrets 2.0

Another very popular product that I purchased and found to be very useful was Digital Background Secrets 2.0.
You will need Adobe Photoshop if you intend to purchase Digital Background Secrets. Adobe Photoshop and digital photography go hand in hand and this product shows you why?
Digital Background Secrets helped me to understand the process of extracting a portrait image from one photograph and placing it on a digital background. This is all done with video tutorials and is very easy to follow. I now create all my own digital backgrounds in Adobe Photoshop.
There are some amazing techniques explained in these seven video tuturials. To read more...
Sell Your Digital Photos

You have heard people say that a picture paints a thousand words. For some savvy individuals, pictures can also earn big money.
Selling pictures is big business these days. We live in a commercial world where images are used to promote all kinds of products.
A few clever individuals have caught onto this and these people are taking photos and earning big bucks.
If you want to earn money from your images, click the following link for more information - Making Money Selling Digital Photos.